Tailor made
Create your personalized programme
125 € per day
From Tuesday to Sunday
For small private groups tailor made from 5-12 persons.
From 2 days or more
Create your personalized programme, combining the workshops and the experiences.
Just tell us what you'd like to do and we'll be happy to create a customized private tour or stay, based on the time you have available while in Greece.
Creation, relax, mindfulness, hiking tours in nature, painting, photography, sculpture, body art, land art…
For associations, professional groups, employees, bulding teams, schools and colleges, small thematic groups, etc. Tailor-made programmes are an excellent way to strengthen relationships between groups of people who want to get to know each other better and give an original gift to themselves and their team. A gift that will bring them renewal, inspiration and creative interaction in a natural and isolated environment, far from the negative effects of everyday life.
What's included: all the necessary materials to carry out the experiences and workshops, snacks, aperitifs, all products to prepare our participatory cooking and dining experience, beverages and breakfast and accommodation.
The duration of the workshops and experiences are from 2 to 2.5 hours with the possibility of carrying out up to 2 daily programs.
Offered in French/ English/ Spanish/ Greek/ Catalan
Flavors and colour
For lovers of tasting and gastronomy.
A different approach to the colour palette of the area's flavours.
An original and unprecedented experiential way of discovering local products and authentic recipes by tasting flavours and interpreting them through colours.
Hiking and exploring
A thematic programme for nature lovers and explorers.
Small and easy search paths on ancient paths that combine the discovery of ruins from the Neolithic era.
A journey into the mysterious megalithic past of the Dragons of South Evia.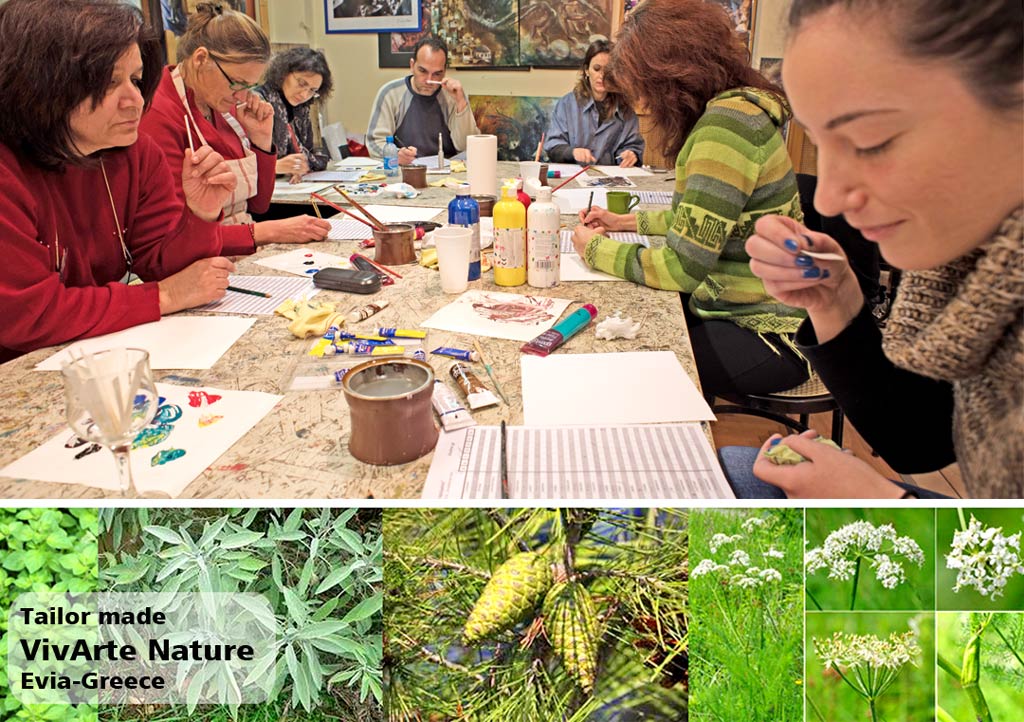 Smells and colours
A journey to the magic of plants and herbs of the Greek countryside. An experience of initiation and sensitisation to the sense of smell. For those who love discovering the invisible gifts of nature through smell and delicate fragrances.
Sounds and figures
A unique programme for those who love music and sounds. A pleasant experience for all of transformation of sounds into simple three-dimensional forms of clay.
Photography in nature
An escape for fans of travel photography. A journey of initiation into the techniques of shooting with a camera or mobile phone. An interpretation of the sounds, aromas and flavours of the Greek countryside in images full of memories and emotions.
Painting on the body/ Body art
An innovative and enjoyable creative workshop.
An impressive experience everyone can participate in making their own body a canvas (if they want). A surreal and humorous artistic interpretation that transforms ourselves into a piece of art.
Sculpture with clay
We artistically express our gratitude to the earth and we praise it with the basic material that it provides us with, clay. A workshop dedicated to symbolic art with the construction of a simple sculpture (totem) that will express the inner world of each of us.
Participatory painting
An easy for everyone interactive workshop on the topic of collaborative and participatory imagination and creation. We improvise with colour, painting together a great work of abstract art. We leave our personal imprint of memories and feelings on a large project that will remain and be exhibited on the premises of the estate.
Art Installations/ Land art
An outdoor scenography workshop with the natural landscape as a canvas itself. We create ephemeral constructions and thematic spaces with materials we collect from nature, a real dialogue between nature, human imagination and creation.
Creative collage
An interactive workshop that aims to introduce us to the most important element of art; composition. Based on the method of collage, we create using materials provided by nature, we are inspired by it and symbolically return the works back to it.