A special getaway full of beauty
One-day escape
45 €
From Tuesday to Saturday
From 11 a.m to 2:30 p.m.

What's included: all the necessary materials to carry out the workshop, snacks, aperitifs, beverages.
Group: max. 20 persons
Come with us to learn new and interesting things; new ways of relaxing, observing, perceiving, expressing ourselves and creating exciting memories with like-minded people interested in the Arts and Nature.
A hiking tour to discover a wonderful secluded landscape created by artists. A rejuvenating walk to encounter outdoor artworks, sculptures, paintings, art installations and photography.
Participate in a unique experience, an interactive game through colours, to discover the plants of Greek nature and their interpretation.
For nature lovers, art lovers, but also for any sensitive people who want to live a unique experience based on the power of art.
10:30 a.m.: A rejuvenating walk (guided tour) to encounter sculptures exhibited in nature and other artistic works. Simultaneously with this hike there will be an open debate on the topic "man, art and nature".
Walk to discover the "MYTHIC FOREST": An amazing scenery in the forest created by artists and inspired by Greek mythology. A meeting with the primary gods, nymphs, heroes: Demeter and Persephone, Narcissus and Echo, the Hesperides, Pan, Prometheus… a scenographic path where contemporary art and ancient myths meet.
Tasting of local products and relaxing in the shade of olive trees and discussion of the travel experience.
Workshop "Discovery of scents through colour": An interactive awareness game on the sense of smell and sight – a unique experiential introduction to the plants and aromas of the area through light and colour focused on observing and expressing our surroundings: the sights, scents and their interpretation. Olfaction plants collected from our art garden such as oregano, lavender, thyme, rosemary, sage, basil, lemon verbena etc.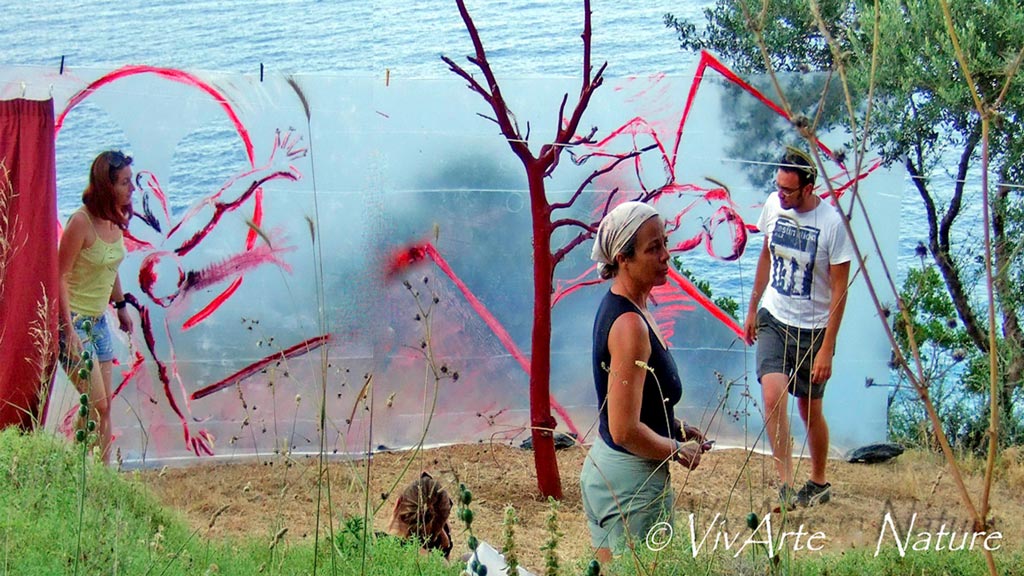 Preparing for the tour: Comfortable clothing for the workshops and walking in nature, closed-toe walking shoes, sunscreen, and a hat.
Offered in French/ English/ Spanish/ Greek/ Catalan
Not accessible by wheelchair
This is a 3 hour and 30 minutes private tour/ activity from 11 a.m. to 2:30 p.m.