The accommodation in Vivarte Nature is part of the unique Greek hospitality, related to myths and history.
For those who take part in our cultural and creative experiences accommodation is free.
Vivarte Nature is completely off the grid! We pride ourselves in offering our guests a complete artistic eco-stay experience. With no main water or electricity, we only use solar power to harness the sun's energy to power the rooms or heat the water, which is collected when it rains and is afterwards filtered.
Six demountable small rooms
The main house was rebuilt from the old shepherd's house, in it there are the common kitchen, dining room and outdoor living rooms and hot showers. It has the possibility of sleeping 6 people in a room with bunk beds.
We can also accommodate guests on the large Aegean balcony terrace with three tents that we offer.
On the large terrace with fantastic views of the Aegean there is also the possibility of installing our large three camping tents.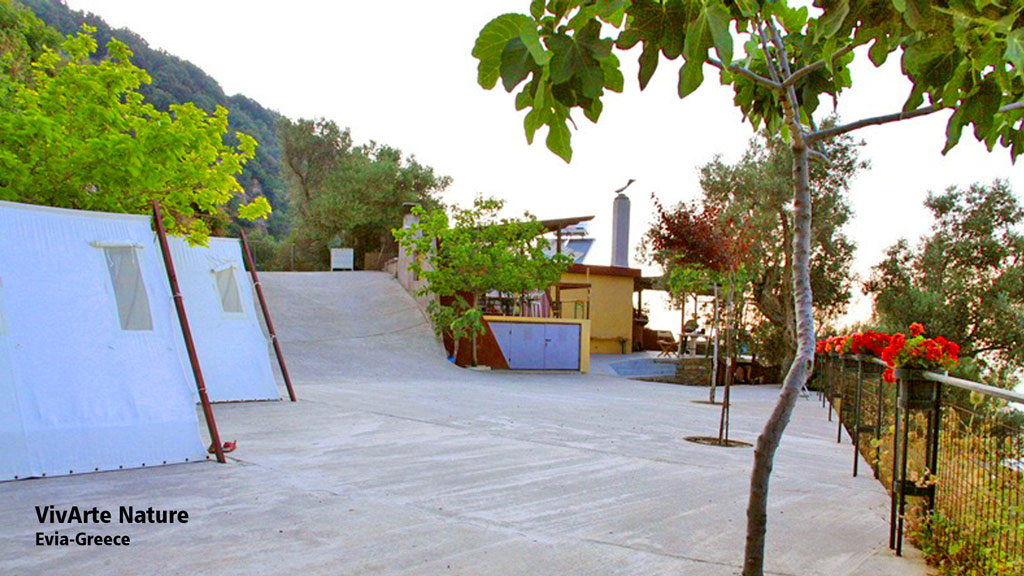 Small Rooms in nature & outdoor spaces settled in a grove called "the Nymphs forest" close to the main house.
Our small and exclusive "Nymphs forest" accommodate up to 9 guests in six separate demountable small rooms. A scenographic place mainly predominated by holm oaks, oaks and wild olive trees. Oriented to the North East, is a natural paradise overlooking the Aegean Sea, making this an intimate and very personal experience.
We provide you with sheets, towels, pillows, soap and shampoo.
Only two of the six rooms are ensuite. The others share two toilets. There is a common living room and also four small sitting areas to share.
The amenities are particular, think that you are in the middle of nature and we insist on a simple way of life, with the basic needs of comfort and a rich spiritual and mental stay.
Vivarte Nature is the synonym of simple, authentic and real.
Participatory Cooking experience
We will create our own meal together.
The Mediterranean cuisine expresses the palate, the smells and the images of a region.
During your stay we take care of you by providing locally grown products and recipes that we will cook together, which also helps you reconnect with the cycles of nature in our region and it is a wonderful opportunity to savor the biodiversity of the island of Evia
The meals are moments of creation, tasting in the outdoor or indoor kitchen and above all of spending precious time together.
The social impact of Vivarte.
Tasting Real Flavours and locally grown products (fruit, vegetables, cheese, meet, oil olive, wine, honey, herbs, fish…), the products of each time and season. In this way we support the local farmers and help secluded rural areas to stop their depopulation.
You can find meat, cheese, and eggs from animals that have been raised naturally, who have grazed on green grass and eaten natural diets.
During the day, besides taking part in our Interactives programmes you can also enjoy the several spaces which offer a chance for guests to spend time alone in quiet reflection and meditation, practice creative activities (painting, sculpture, music, writing, reading …) or discover hiking in the different paths. The physiognomy of the landscape is wonderful, a perfect place for those who search tranquility, peace, serenity, inspiration, to unwind and get away from the monotony of the everyday life and soak up the unspoiled nature.
The art gallery is designed also as self-catering accommodation and can be used by individual visitors or small groups. (4 persons)
Companies and private groups can use the Art Gallery for workshops or focused working days and can also be used as a seminar room for up to 30 people.
Please contact us with your inquiry, specifying your desired date. We will check availability and send you the reservation details.